Get Advanced Wi-Fi that works. It's that simple.
Staying connected shouldn't be difficult. That's why we offer Advanced Wi-Fi to our customers to keep them connected. 
At MTC, we provide fast, reliable internet packages supported by state-of-the-art equipment to help you live your best internet lifestyle, so you can enjoy seamless connections across every device in every room. Get MTC's Advanced Wi-Fi, and start connecting.
Welcome to MTC's
Advanced wi-Fi
What is Advanced Wi-Fi? MTC offers our customers some of the fastest Internet connection speeds available. Chicago? Des Moines? St. Louis? People there aren't streaming, surfing, or downloading any faster than you will. Get reliable, advanced Wi-Fi that you can count on with a high-performance dual-band router and year-round maintenance and support.
We believe that our customers are the best and they deserve the best. We're committed to offering our customers just that: the best in service and support.
Plus the best part? MTC's Advanced Wi-Fi is now included in all of our new residential internet packages! Talk about Wi-Fi made easy.
MTC's
Advanced Wi-Fi
Wireless Router & Replacement

Automatic Firmware Updates

Visits to Home & Remote Support

Diagnosis of Wi-Fi Functionality

Existing Wiring & Jack Coverage

24/7 Device & Connection Control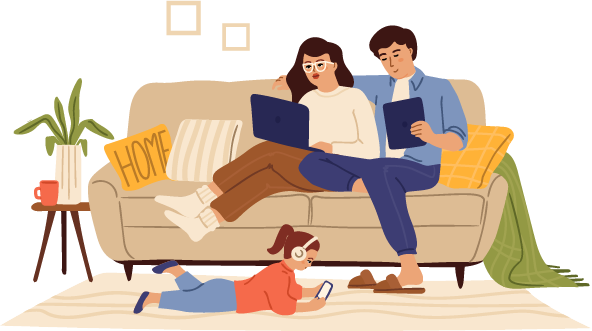 Why Choose MTC's
Advanced Wi-Fi?
It's simple: Get worry-free Wi-Fi and a reliable connection you can count on.
In today's wireless word, it's important to have a strong, reliable wireless network and connection. With MTC's Advanced Wi-Fi with wireless network management, you'll have access to MTC's technical support staff to help troubleshoot and resolve issues over the phone.
If they can't remotely fix the issue, a trained technician will come to your home and fix the issue during business hours without any additional cost.
Plus, easily manage your connection with our SmartHub app!

Wi-Fi 6 Gigabit Ethernet Gateway supports the latest technology for optimized bandwidth utilization.
Get lightning-fast throughputs of up to 5700 Mbps* for an all around STRONG connection.
*Wi-Fi 6 routers have a higher device fee. Speeds are "up-to" and not guaranteed.
Sign up for Advanced W-iFi to experience high-speed Internet access and get self-adapting, easy-to-manage home Wi-Fi coverage.
Make your Wi-Fi work for your bandwidth needs!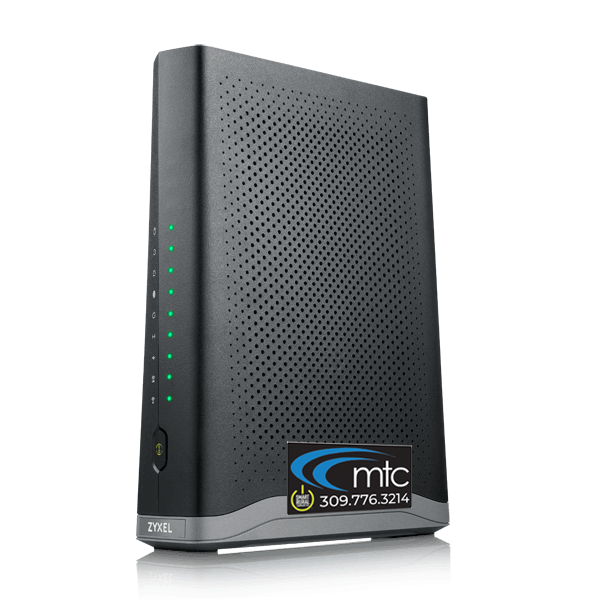 MTC's Advanced Wi-Fi 6 gives you faster speeds and more stability over longer distances. That means you can use more connected devices at the same time, and enjoy your signal throughout your entire home (and your deck!). Ask us to upgrade to our Wi-Fi 6 router!
Want the nitty-gritty tech details? Our Wi-Fi 6 router supports the Wi-Fi 6 (11ax) standard to offer lightning-fast throughputs of up to 5700 Mbps. The performance enables operators to provide UHD 4K/8K services to subscribers and hybrid high-throughput applications in homes.
Check out the most popular 2021 Wi-Fi 6 devices by clicking here.
Need more information on Wi-Fi 6? Visit our technology partner's webpage:
Here's a helpful breakdown of what each speed means by number of users and devices. We believe that the lowest speed that someone should have is 100 Mbps. Why? 100 Mbps allows one or two users to have a stable connection on their devices while still having bandwidth leftover for a video stream or an over-the-top service, like Netflix or Hulu. Need more information on our speed packages? Check out our speeds: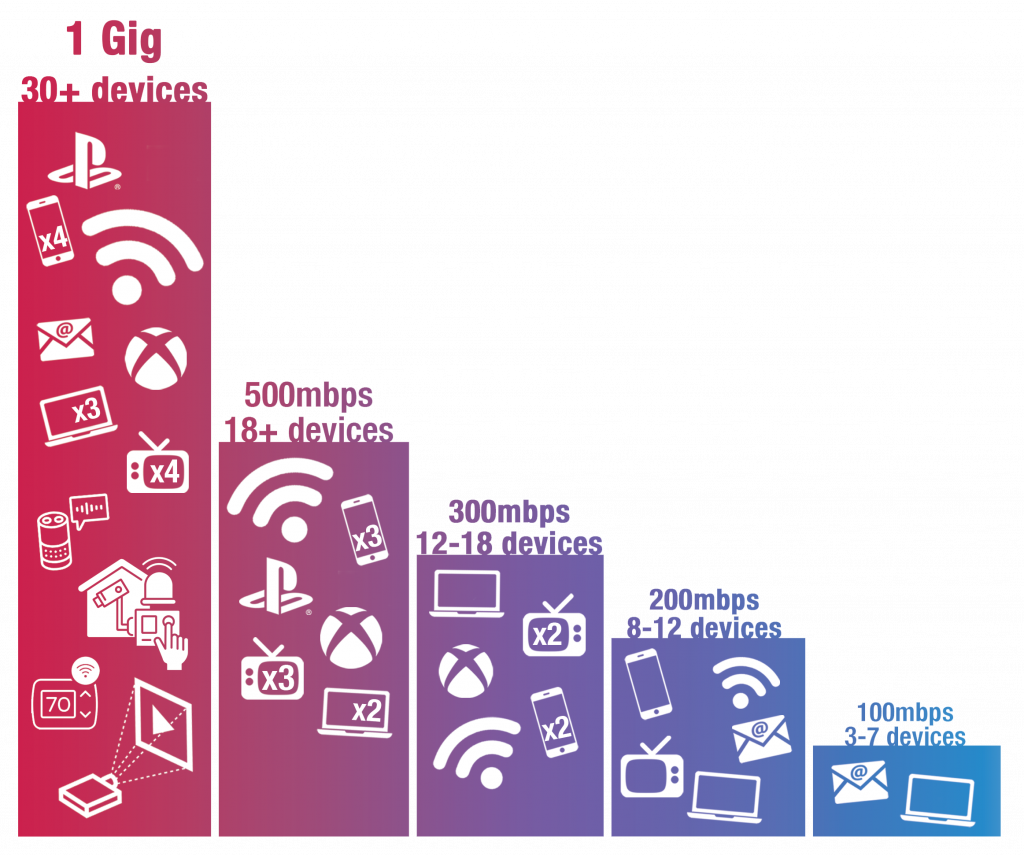 WHat comes with your advanced wi-fi?
STOP STRUGGLING. START CONNECTING.
what makes advanced wi-fi different?
MTC's Advanced Wi-Fi make managing speeds of 1Gig and more than 30 connected devices look easy.
Our Wi-Fi is built with sophisticated QoS and multicast traffic shaping features like IGMP v1/2/3 snooping and VLAN capabilities for premium video delivery services. That means that your network is secure and your connection is built to rely on.
How can I Manage My Connected devices?
With MTC's Advanced Wi-Fi, managing all of your connected devices and your network takes just a few taps! Easily view all of your connected devices with MTC's free SmartHub app and website, set up your network name and password, and even configure parental controls.
Visit mdtc.smarthub.coop to start managing your connected devices, and watch the videos below to get started:
Manage Your Connected Devices
With SmartHub (Web)
Manage Your Connected Devices
With SmartHub (Mobile)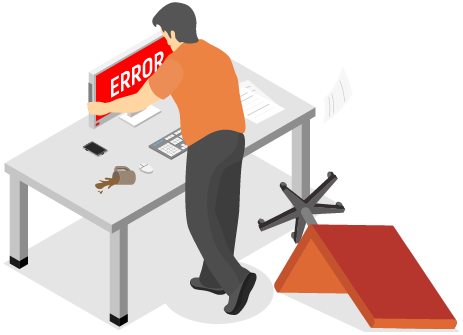 What if I don't have MTC's Managed Wi-fi?
In the event of an issue, MTC will still provide superior service. Without MTC's Advanced Wi-Fi and wireless network management, equipment delivered to the home and labor during normal business hours will incur a $65 trip charge. A $100/hour charge will apply for all additional troubleshooting, issues, or repair work performed by the technicians at the customer's location during business hours, and a $142.50/hour charge will apply for after-hours labor.
This service does not cover:
Installation of new jacks, customer-owned equipment such as TV's, computers, etc., routers not provided by MTC, customer negligence (pets chewing on lines, accidentally cutting through lines, natural disaster, etc.), business phone systems, and guaranteed wireless coverage (additional access points may be necessary for whole-home wi-fi coverage).
We also offer Customer Assurance plans that take the worry out of repairs and give you protection over all your services. Check out our plans:
Ready to Switch to a reliable connection?
Get a Better Wi-Fi Experience by Switching today!