Find the perfect video package and get WatchTVEverywhere for free to stream all of your shows on any of your devices wherever you go. 
You're mobile. Your TV should be too.
All of your favorite channels in one place
Choose a package that has exactly what you want or choose your own features to meet your needs.
*Franchising fees may apply and vary by area. Pricing & packages subject to change.
Basic Video
McDonough & Fulton County
Basic Video
Warren & Henderson County
Expanded Video
Residential
Includes local channels for your county, QVC and Shop NBC. Channels vary by county.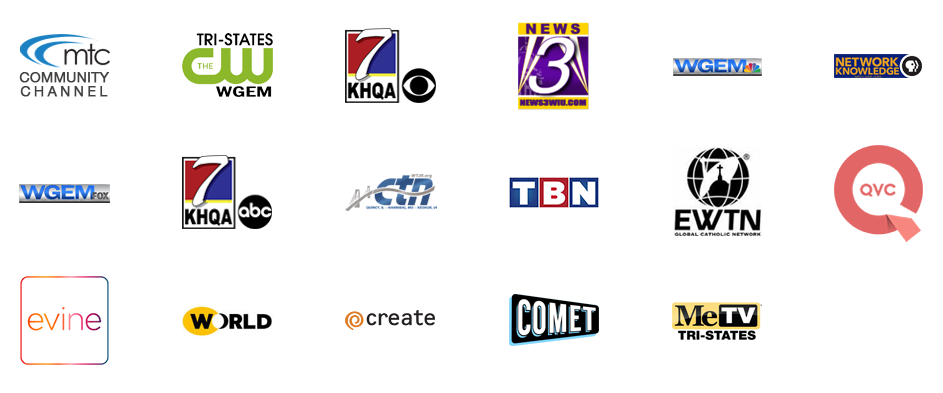 Includes local channels for your county, QVC and Shop NBC. Channels vary by county.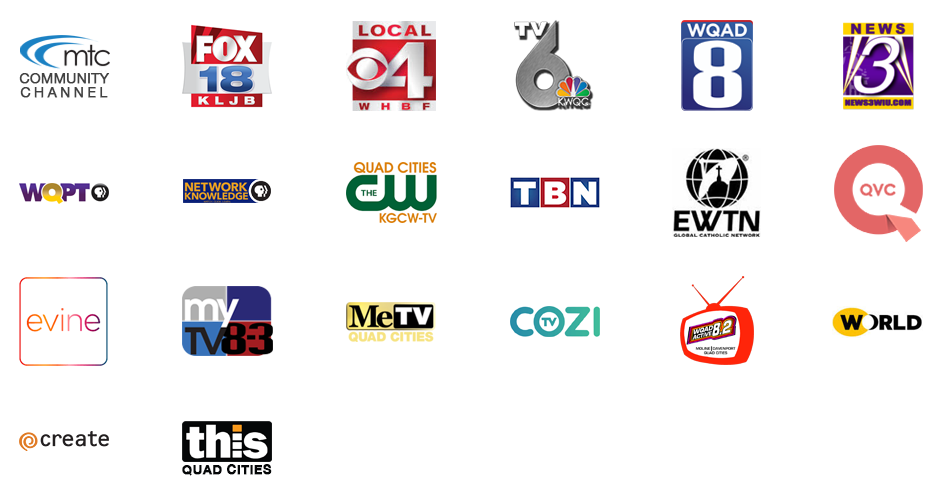 Includes basic video PLUS 90 additional digital video channels and 45 digital music channels. Including these fan favorites:
18  Freeform
19  Lifetime
20  Lifetime Movie
21  Lifetime Real Women
32  ESPN
33  ESPN Classic
34  ESPN 2
35  ESPNews
36  ESPNU
37  Fox Sports Midwest
38  Fox College Sports Atlantic
39  Fox College Sports Central
40  Fox College Sports Pacific
41  NBC Sports Chicago
43  Golf Channel
44  Fox Sports 1
45  Outdoor Channel
46  NBC Sports Network
47  NFL Network
48  Big Ten Network
49  NBC Sports Chicago+
51  Big Ten Network Alt 2
52  Big Ten Network Alt 3
56  CNBC
57  CNN
58  Fox News
59  HLN
62  The Weather Channel
63  CSPAN
64  CSPAN 2
65  FOX Business
70  A&E
 
71  BBC America
72  FYI
73  truTV
74  Comedy Central
75  E! Entertainment
76  FX Networks
77  GSN
78  FXX
80  Oxygen
81  Syfy
83  Paramount Network
84  TBS
85  TNT
86  USA
87  WGN America
88  WE
89  Bravo
96  CMT
98  GAC
99  MTV
100  MTV2
101  Nick Music
102  VH1
103  MTV Classic
104  VH1 Soul
105  CMT Pure Country
111  Boomerang
112  Cartoon Network
113  Disney Channel
114  Hallmark Channel
115  Nickelodeon
116  TEENick
 
117  Nick Jr.
118  Nicktoons
119  ION
120  TV Land
121  Disney XD
122  Disney Junior
127  Animal Planet
128  Disvovery Channnel
129  OWN
130  Destination America
131  Discovery Family
132  Science Channel
133  Investigation Discovery
134  American Heroes
135  Do It Yourself
136  Food Network
137  History Channel
138  Viceland
139  HGTV
140  National Geographic
141  The Learning Channel
142  The Travel Channel
143  RFD
144  The Cowboy Channel
145  Nat Geo Wild
151  American Movie Classics
152  FX Movie Channel
153  IFC
155  Turner Classic Movies
With Pay-Per-View (PPV), you get to enjoy live programming such as UFC, wrestling, boxing and concerts! Since many of the shows are live, PPV runs on a fixed schedule like regular programming. This differs from Video on Demand, which lets you watch a selected program whenever you choose. Unlike HD and PVR, PPV is free until you use the service by purchasing a show.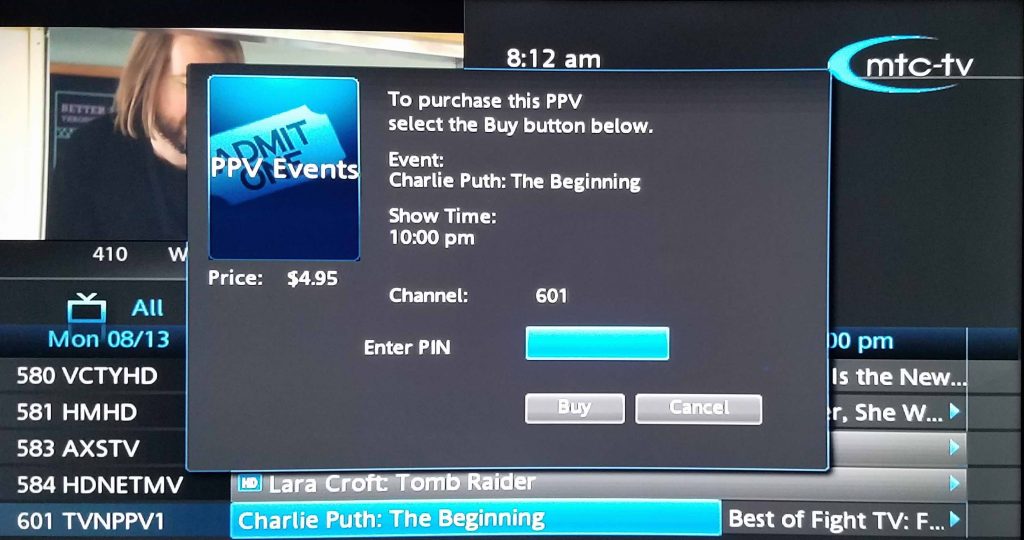 How Is High Definition different from
Standard-Definition?
How Is HD different from
Standard Definition?
HD (High Definition) TV provides a picture with much higher resolution than a traditional standard definition television system. So, you get a wider picture with greater detail and the clarity of motion pictures in the comfort of your home. As an added bonus, the sound quality is also dramatically better. If you have any type of smart TV, 4K TV, or flat screen TV that you've purchased within the last three to five years, upgrading to HD can make a huge difference in the quality of your viewing experience. See the difference yourself for only $10.95/mo!
Starz® and related channels and service marks are the property of Starz Entertainment, LLC. Visit starz.com for airdates/times. Outlander © 2018 Sony Pictures Television, Inc. All Rights Reserved.
HBO® and CINEMAX® and related channels and service marks are the property of Home Box Office, Inc. Visit hbo.com for airdates/times. Strike Back © 2018 Warner Media, LLC. Game of Thrones© 2018 Warner Media, LLC. All Rights Reserved.