View and Pay your bill with
MTC's SmartHub
Manage your account like never before!
These are the current trending SmartHub support topics:
● Re-register for your online account: We recently had a system upgrade that requires all of our members who have online accounts to register again. The new system greatly increases the amount of information you have access to with regards to your account and services available to you! (Don't forget to bookmark our new online payment website!)
Download a PDF guide to getting started with SmartHub: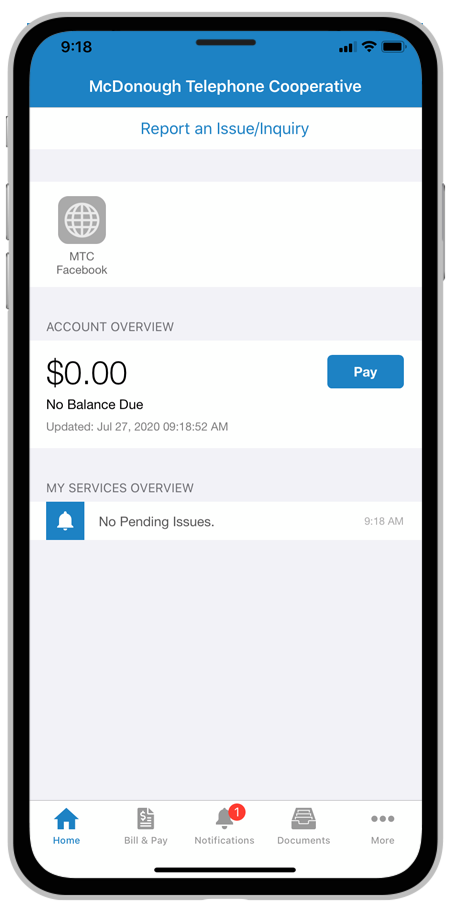 Now you can manage your account like never before!
SmartHub has several features that make managing your account as easy as possible. Whether through the web, or your smartphone or tablet (Android or iOS), you'll be able to pay your bill, contact customer service and get the latest news.
As soon as you log in, you'll be able to view your billing history and make a payment with just a couple of clicks. You'll be able to see your current bill, along with bills from the previous month, if you want to compare costs.
Making payments through SmartHub is fast and easy. The first time you make a payment either through the web or through your mobile device, you'll be able to securely store your payment information for future transactions. The next time you need to pay your bill, it will only take a couple of clicks.
You'll also be able to see important notices with SmartHub. You'll be able to select how you want to be notified about your bill, including email and text messaging.
Reporting a service issue is a snap with the SmartHub mobile app. There's no need to call the office, just let us know about the issue with a few clicks. You can also contact us for customer service requests or with any questions you may have. You can now contact us at any time from anywhere.
How do I manage my devices?
Manage your network, router, and connected devices all in one place with the MTC Wi-Fi app!
With MTC's Advanced Wi-FI with Wireless Network Management, it's easy to manage your network connection and your connected devices. Easily see how many devices are connected to your router on your MTC Wi-Fi home screen. Check your network connection by selecting the "My Network" section, and run a speed test.
Go even further to set up parental controls on your connected devices, manage your personal home or business network in "My Network," change your password or set up a temporary guest network, and even run a speed test directly through your router to check on your signal strength.
Experience the difference in your network with MTC's strongest Wi-Fi connection. Ready to learn more about managing your connection? Click the button below!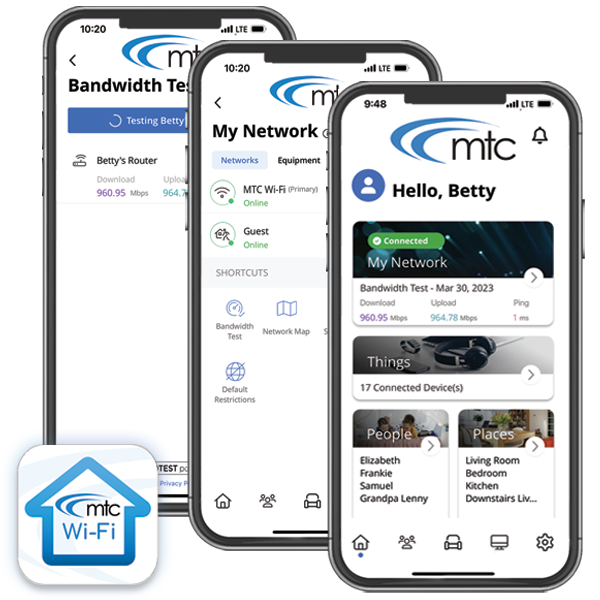 Getting started with SmartHub is as easy as 1-2-3!
As you work down this page, you'll complete the following checklist and be on your way to managing your account like never before! Make payments, report service interruptions, monitor usage, and save the planet.
Register Your SmartHub Account
Locate your new account number (instructions below) and get registered!
Manage your account on the go from anywhere at any time!
Activate the features you want
This is your opportunity to give features like paperless billing and Auto Pay a try!
Setting Up SmartHub: Frequently Asked Questions (FAQs)
Register Your Account
(Web)
Watch how easy it is to register your SmartHub account through our web portal.
Download & Register
(Mobile)
Watch how easy it is to download our app and register your SmartHub account.
Set up your
MTC Wi-Fi app
Have MTC's Advanced Wi-Fi? Now get control of your entire network all with our free app!
Manage your Wi-Fi password and Guest Network
Have MTC's Advanced Wi-Fi? Now get control of your entire network all with the MTC Wi-Fi app!
Other Frequently Asked Questions (FAQs)
Still Have Questions? Contact us!
After you fill out the form, one of our dedicated employees will reach out to you.
Our first objective will be to understand your service needs, then together find a plan that fits your lifestyle without breaking your budget.
Does this form mean you're required to purchase our services? Nope. Just fill out this form to get the process started, and we'll be in touch within 48 hours.
Experiencing issues, forgot your WiFi password, or need help with your service? Call our 24/7 repair line at 309-776-3214 for help right away!