It's easier than ever before to manage your monthly bill!
Learn more about MTC's monthly billing below.
MTC bills customers for the month of service in advance of that month. That means that our customers receive their bills on or by the first of the month for the upcoming month's service charges.
All bills are due on the 15th of the month. If the 15th falls on a weekend or one of MTC's holidays, the bill payment is due on the next business day. A 5% late fee charge is applied to the bill total either on the 16th of the month or after the bill due date, and that late fee charge will show up on the next month's billing.
We shut down for billing on the 23rd of the month. This means that if you haven't made a payment by the 23rd, your balance from that month will show up on your next month's bill.
Here's a breakdown of your bill: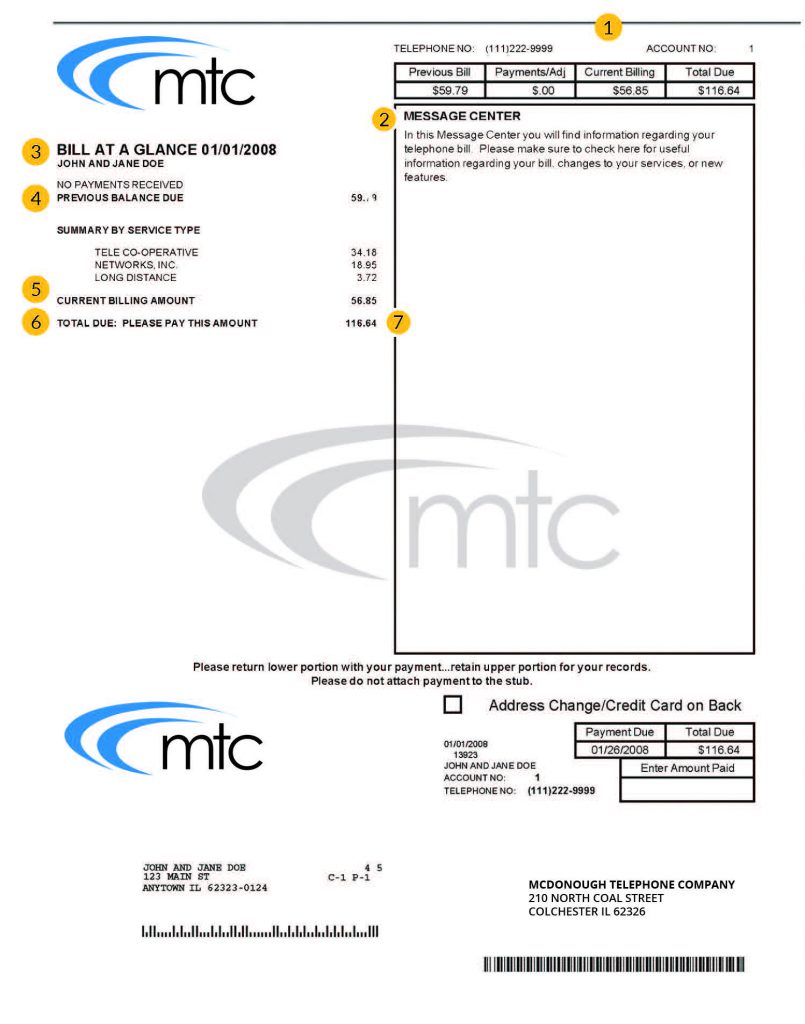 Here are the ways that you can pay your MTC Bill:
What if I can't pay my bill?
Don't wait until you're behind on your bill and have received a delinquent notice before you contact us. Talk to us about payment options that are available to you before your service is shut off for non-pay.
Have a seasonal business or going on vacation?
With the MTC's Vacation Program, your  services can be ready and waiting for you when you return — and save you money while you're away!
Our goal is to offer simple, convenient services for our members — to fit every lifestyle, especially yours.
Our Vacation program is a convenient option that allows you to put your services on hold and easily reactivate them when you return.
24/7 Pay By Phone: 1-833-699-1832
The Affordable Connectivity Program (ACP) helps low-income households pay for broadband service and internet connected devices. This Program is administered by USAC with oversight from the Federal Communications Commission (FCC). Only one monthly service discount and one device discount is allowed per household. To receive the connected device discount, consumers need to enroll in the ACP with a participating provider that offers connected devices (Note: not all internet companies offer device discounts.) The internet company will provide the discount to the consumer.
Please visit the FCC's official Affordable Connectivity Program webpage for more the most accurate and up-to-date information: https://www.affordableconnectivity.gov