MTC Awarded $18 Million from
ReConnect Grant for Fiber Buildout


MTC Bringing Millions of Dollars to Midwest Illinois with ReConnect
McDonough Telephone Cooperative (MTC) is receiving an $18 million grant to deploy a fiber-to-the-premises network in Illinois. MTC's Fiber network will connect 1,583 people, 274 farms and 41 businesses to high-speed internet in Hancock, Henderson, McDonough and Warren counties.
MTC will make internet access affordable through the Federal Communications Commission's (FCC) Lifeline and Affordable Connectivity Programs.
USDA Announces MTC's ReConnect Grant Areas
The USDA and MTC announced the ReConnect Grant award during a press conference on Friday, February 24th, in Galesburg. During the press conference, Representative Eric Sorensen and USDA Under Secretary Xochitl Torres Small explained the importance of getting reliable, high-speed broadband access to rural areas.
The grant's funds stem from a larger $63 million in grants USDA awarded to four states for projects that will provide 100 megabits per second download and upload speeds to rural communities.
Awarded under the third round of Rural Development's ReConnect Program, the grant will be used by McDonough Telephone Cooperative to deploy a fiber-to-the-premises network across Hancock, Henderson, McDonough and Warren counties. (Awarded areas are pictured on the right: the pink areas are the new ReConnect areas, and the blue areas are MTC's current ILEC Fiber areas.)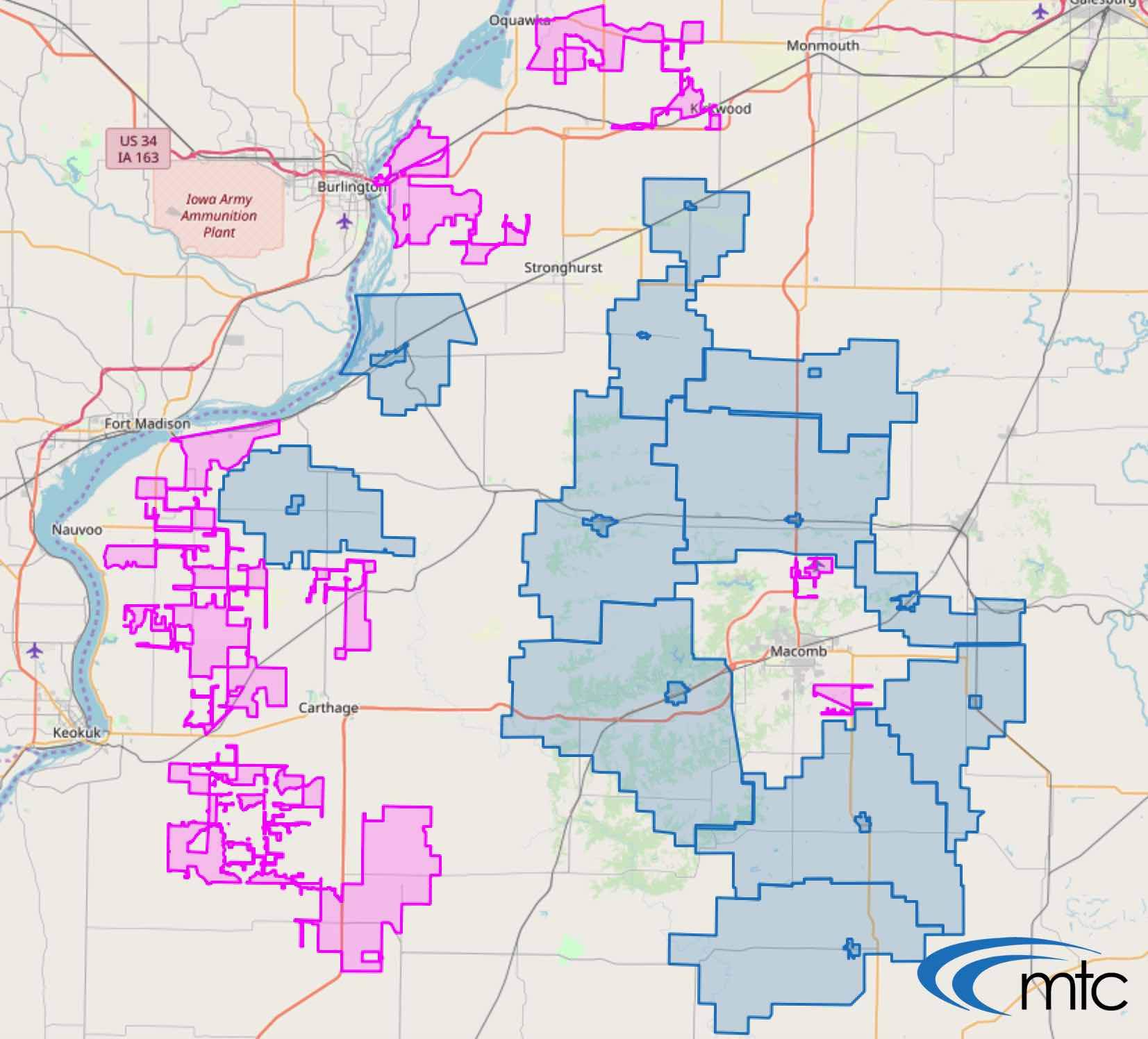 Blue Areas: McDonough Telephone ILEC Fiber areas
Pink Areas: MTC's awarded ReConnect areas
"From the farm to the school, from households to international markets, high-speed internet drives positive change for people across rural America," said Under Secretary Torres Small. "Today's investment will help Illinois families and businesses in Representative Sorensen's district access new and critical opportunities."
"We are proud to receive this award and look forward to expanding reliable fiber broadband to the underserved and unserved rural areas of Western IL," said Jay P. Griswold, President and CEO of McDonough Telephone Cooperative. "This ReConnect grant aligns with our commitment to bring fast, reliable and affordable broadband to rural America. We are excited to be able to finally connect locations like the Macomb Airport and many family farms who lack access to high-speed Internet today."
This ReConnect Grant allows MTC to expand its Fiber network to surrounding rural areas.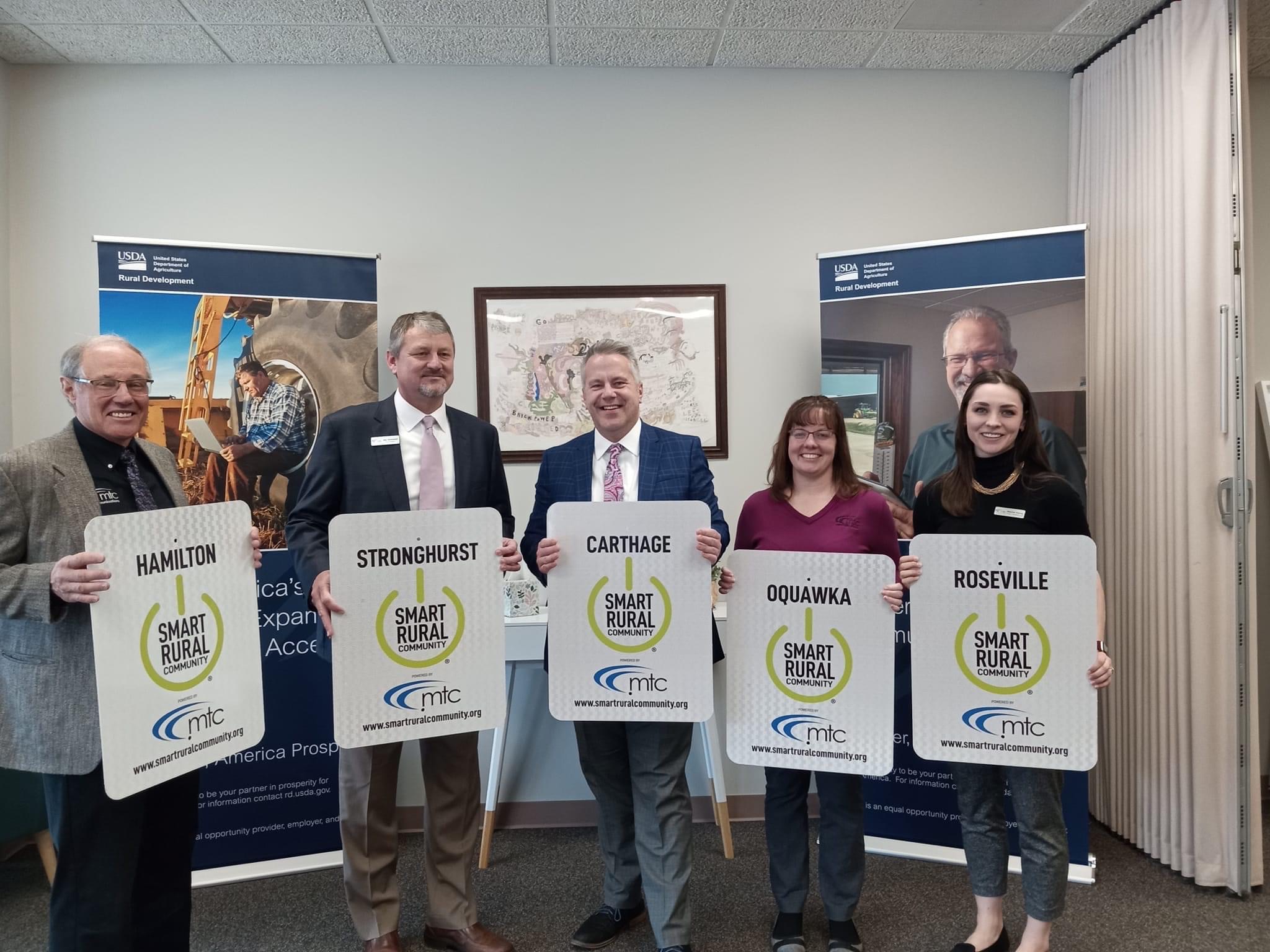 McDonough Telephone Cooperative and its subsidiary MTC Communications have already built thousands of miles of fiber throughout McDonough, Hancock, Henderson, Schuyler and Warren counties. 
This grant allows MTC to extend its network even farther into rural midwest Illinois. Areas like Bently, Basco, Niota, Pontoosuc, Hopper, Shokokon, Gulfport, and the Macomb Airport are included in this build.
From left to right: Leroy Tappe, MTC's Board chairman, Jay Griswold, MTC's CEO, Representative Eric Sorensen (D), Holly Fecht, MTC's CFO, and Rachel Kerns, MTC's Director of Marketing.
Why is the ReConnect Grant so important to rural areas?
The ReConnect Program awards grants to applicants like MTC who apply to serve an area that lacks access to high speed internet with  download speeds of 100 megabits per second (Mbps) — and upload speeds of 20 Mbps. The grant applicant must also commit to building facilities capable of providing high-speed Internet service at those speeds to every location in the proposed service area.
MTC has a fully Fiber-to-the-Premise network that they will plan to expand throughout these new areas. Fiber uses light to send signal to and from a location, making it the most advanced and most reliable service type available that's scalable for future needs. MTC is also a Gigabit service provider, offering speeds for both residential and non-residential customers of up to 1 Gig symmetric.
"This (internet service) is required now for us to make a living here. This is required now for us to receive an education – our kids have to get their homework done. This is required to access telehealth appointments, so our senior citizens can meet with their doctors from home. And also so our senior citizens can talk with their grandkids on Zoom." – Representative Eric Sorensen (D).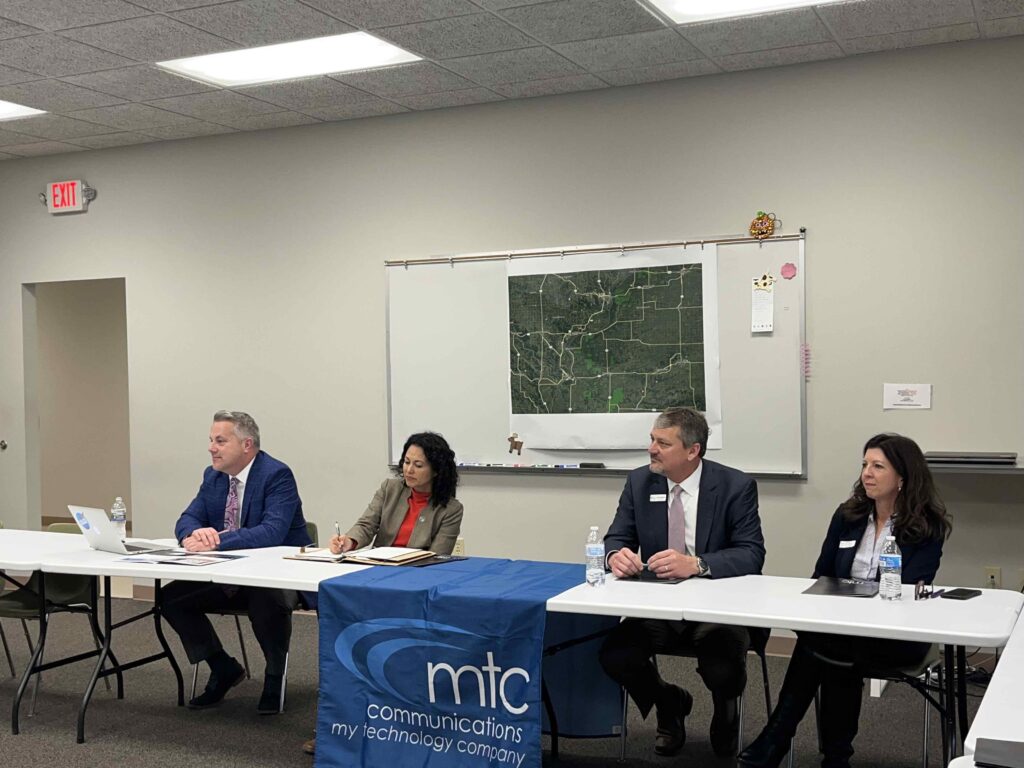 After the press conference ReConnect announcement, Mr. Sorensen and Ms. Torres Small hosted a roundtable with MTC to discuss the investment with some of the rural communities affected. Among those attending were representatives from Carthage, Hamilton, Monmouth, Nauvoo, and surrounding rural areas, as well as Randy Nehrt, President of the IL Broadband and Telecommunications Association (IBTA).
Community members voiced the need for reliable broadband outside of MTC's current service areas. While the ReConnect grant is a huge step in the right direction, there are still plenty of unserved areas throughout rural Illinois that desperately need a reliable Internet connection. MTC is working on applying for additional grant funding to help expand their network to meet this need.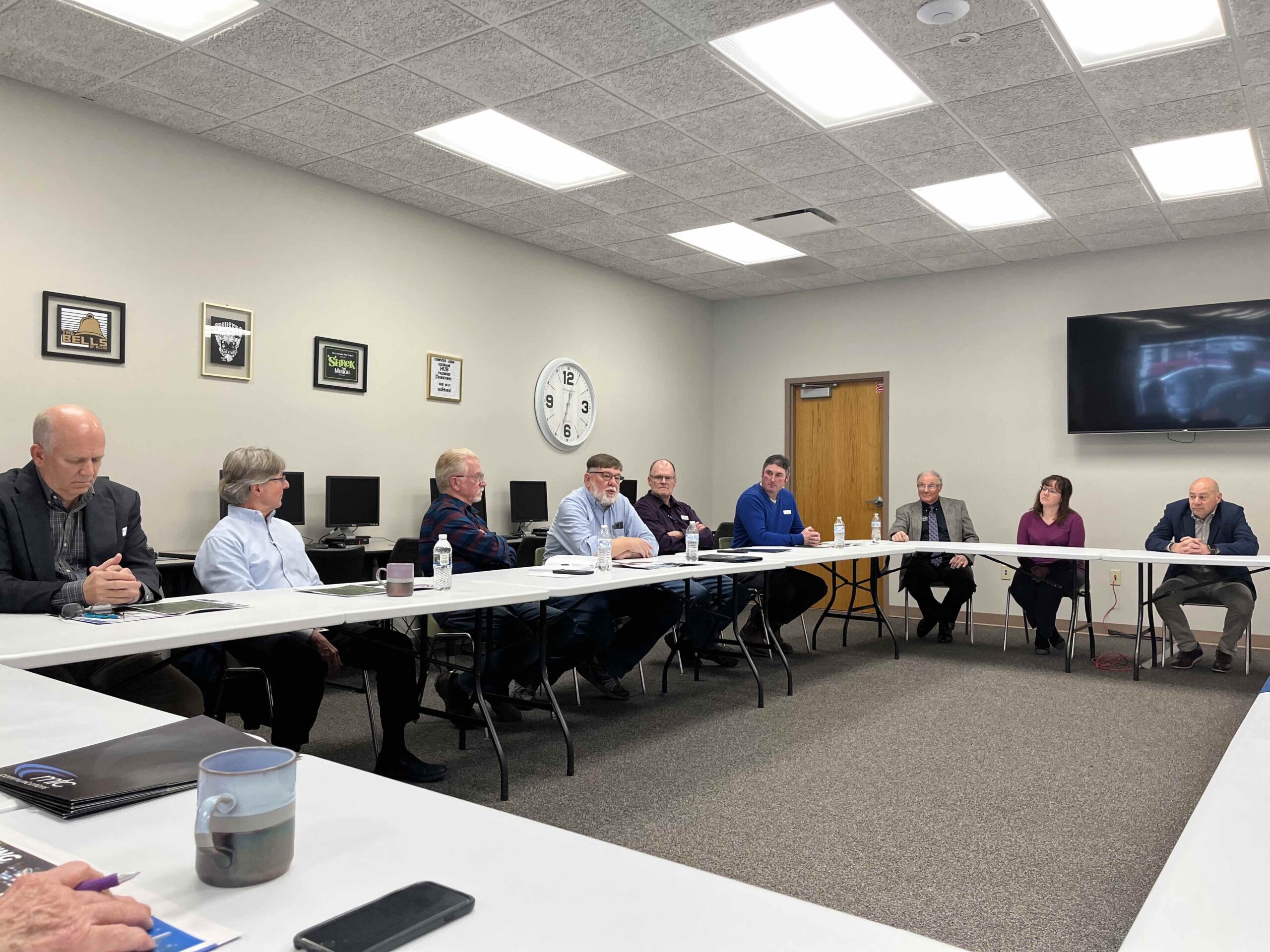 MTC is a Smart Rural Community – Gig Capable Provider
What does a Smart Rural Community™ designation mean to each community MTC serves?
What does it mean to be a Smart Rural Community? It means that homes, businesses, schools and public facilities all have access to broadband, and the community is using that broadband to improve economic, educational, health and social conditions for their citizens!
MTC's service area communities are all connected to broadband via MTC's 100% Fiber Optic communications network.
Only 1 in 5 households in the U.S. have access to a Fiber to the Premise connection, so that means that MTC's service communities are ahead of some of the largest cities in the country when it comes to broadband access!
MTC uses fiber to expand Broadband to students, families, farmers, businesses, medical facilities, and communities every day. We are dedicated to improving quality of life and increasing access to a global economy at an affordable price over a reliable network. With the introduction of fiber internet into rural areas, we are at the forefront of enhancing opportunities in the communities where we live, work, and thrive. Connecting communities with vital health and educational services through high-speed fiber internet, MTC is working to ensure a successful future among businesses, farms and commodities.
Broadband Enabled. Locally Driven. Globally Connected.
MTC was recognized as a Smart Rural Community Gig-Capable Provider in 2021. The Smart Rural Community initiative is a program created by NTCA-The rural Broadband Association to promote collaboration among broadband providers and other local leaders to leverage broadband-enabled solutions to generate innovative economic development, education, health care, and other vital solutions for rural areas.
SRC providers enable fast, reliable, and sustainable connectivity needed to thrive in an online world, especially as the demand for distance learning, telemedicine, and remote work grows.
We at McDonough Telephone and MTC are honored to be recognized as a Smart Rural Community provider, and we're excited to continue connecting rural communities to reliable internet and telecom services. Learn more about MTC's SRC status on their SRC page.
Already live in an MTC Smart Rural Community?
MTC provides lightning-fast internet speeds for every device in your home. Enjoy streaming video without long buffering times, gaming without lagging, and no data caps to cramp your style.
Check out MTC's service areas below to see if you're already in one of MTC's Fiber to the Home communities!
MTC ReConnect Areas Qualify for ACP & Lifeline
The Affordable Connectivity Program (ACP) is a Federal Communications Commission (FCC) program that replaces the Emergency Broadband Benefit Program (EBB Program) to help low-income households pay for internet service and connected devices. If the ACP ends (or the household is no longer eligible), the household will go back to the provider's regular rates, terms, and conditions.
If your household is eligible, you can receive:
Up to a $30/month discount on your internet service
NOTE: Only one monthly service discount and one device discount is allowed per household.
Learn more about the FCC's Affordable Connectivity Program from MTC on MTC's ACP page by clicking here.
Please visit the FCC's official Affordable Connectivity Program webpage for more the most accurate and up-to-date information and to see if you qualify for ACP: https://www.affordableconnectivity.gov
To learn more about USAC's Lifeline program, please visit their website: https://www.lifelinesupport.org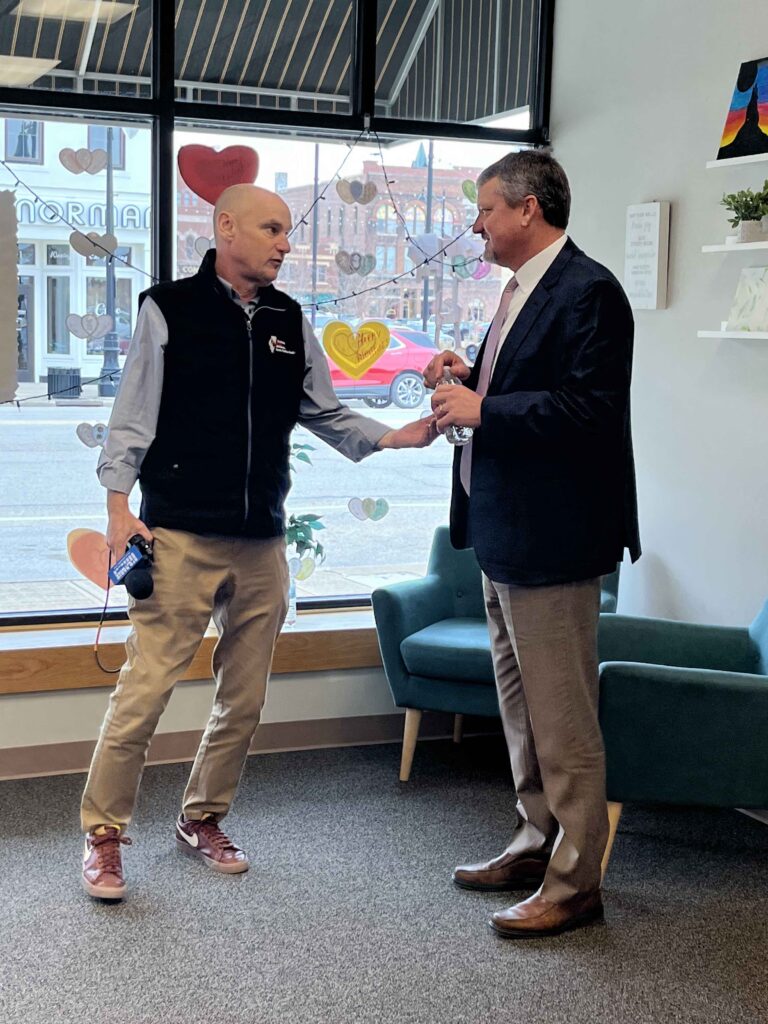 RFD's Jim Taylor with MTC's CEO Jay Griswold
Ready to get faster, more reliable internet?
Switch to MTC!
*McDonough Telephone Cooperative has proudly served parts of Fulton, Hancock, Henderson, McDonough, Warren, and Schuyler counties since 1951. McDonough Telephone provides fiber-to-the-premises (FTTP) technology to its customers, giving its customers state-of-the-art service quality, speed, and reliability. For more information on service, visit mtc.crowdfiber.com or call 309-575-3211. McDonough Telephone is a recognized NTCA Smart Rural CommunitiesTM Gig-Capable provider.
*The Affordable Connectivity Program (ACP) helps low-income households pay for broadband service and internet connected devices. This Program is administered by USAC with oversight from the Federal Communications Commission (FCC). Only one monthly service discount and one device discount is allowed per household. To receive the connected device discount, consumers need to enroll in the ACP with a participating provider that offers connected devices (Note: not all internet companies offer device discounts.) The internet company will provide the discount to the consumer.
Please visit the FCC's official Affordable Connectivity Program webpage for more the most accurate and up-to-date information: https://www.affordableconnectivity.gov
*NTCA–The Rural Broadband Association is the premier association representing nearly 850 independent, community-based telecommunications companies that are leading innovation in rural and small-town America. In an era of transformative technological advancements, regulatory challenges and marketplace competition, NTCA members are leading the technological evolution for rural consumers, delivering robust and high-quality services over future-proof networks that make rural communities vibrant places in which to live and do business. Because of their efforts, rural America is fertile ground for innovation in economic development, e-commerce, health care, agriculture and education, and it contributes billions of dollars to the U.S. economy each year. Visit www.ntca.org.